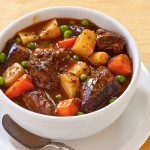 A simple beef stew.
Ingredients
olive oil
1 knob butter
1 onion, peeled and chopped
500 g quality stewing steak or beef skirt, cut into 5cm pieces
freshly ground black pepper
flour, to dust
2 potato, peeled and diced
4 carrots, peeled and halved
2 tablespoons tomato purée
½ bottle red wine
285 ml beef stock
1 clove garlic, peeled and finely chopped
Method
Brown the meat in a pan and remove.
Add onion to the pan and saute until transparent and remove.
Place meat and onion and all vegetables into a large cooktop saucepan along with the beef stock and wine.
Add the tomato paste.
Stir enough to mix all ingredients.
Bring to the boil and then simmer.
This may take a couple hours until the meat and vegetable are tender.
Mix in some flour solution to thicken.
Notes
TBA.