Description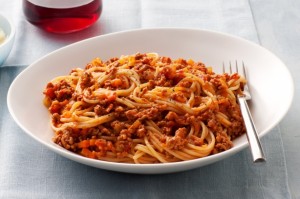 The classic spagetti dish for Sunday night with a good claret.
Ingredients
Olive oil
Minced beef
Onions
Garlic
Canned tomatoes
Tomato paste
Green capsicum
Red wine
Mixed herbs
Chili powder
Spagetti
Parmesan cheese
Method
Warm the oil and brown the mince. Remove the mince and place a in a casserole pot.
Add the chopped onion and garlic to the pan and saute until cooked. Move the onions and garlic to the pot.
Add chopped capsicum, tomatoes, red wine, herbs and spices.
Stir and simmer.
Bring a pot of water to the boil, add some oil and the spagetti. Cook until al dente. Drain in a colander, run under tap water to stop cooking, place in a serving dish.
Serve spageeti and sauce with grated parmesan cheese.