Description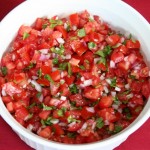 Klaus' tomato salsa recipe.
Ingredients
4 firm medium Tomatos, peeled, seeded and finely chopped
1/2 medium Red onion, very finely chopped
Balsamic Vinegar
Extra Virgin Olive Oil
Salt & Pepper to taste
1 small clove of Garlic, crushed
Fresh Italian Parmesan Cheese
Method
It is as simple as this combine all ingredients in a medium bowl, stir it in.
Then refrigerate until you need to serve.
If you don't know how to peel tomatoes:
– Make slits all over the skin of the tomatoes and place in a bowl of boiled water.
– Leave them in there for 2-3 minutes.
– Then, when you take them out they are extremely easy to peel!