Description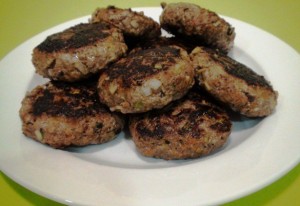 These rissoles are crisp on the outside and very moist on the inside. Very simple yet very flavourful.
Ingredients
500g Minced beef
1 large brown onion grated
2 garlic cloves crushed
1/2 teaspoon mixed dried herbs
1 egg lightly beaten
1/2 cup fresh breadcrumbs or weetbix
1 tablespoon olive oil
Combine mince, onion, garlic, mixed herbs, egg and breadcrumbs in a large bowl. Season with salt and pepper.
Using clean hands, shape mixture into eight 2cm-thick rissoles. Place on a large plate.
Heat oil in a frying pan over medium-high heat. Add rissoles. Cook for 3 to 4 minutes each side or until cooked through.
Gravy
Mustard
Beef stock
Cornstarch
Drain any excess oil from pan, add mustard, and stock; bring to the boil.
Combine cornstarch and water, stir into gravy and cook until gravy thickens.
Serve rissoles with peas, carrot, potatoes and gravy.