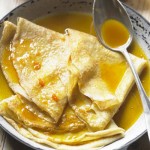 This is the classic Crepe Suzette to have no more than once per year!
The Crepes
1/3 cup plain flour
2 eggs
1 tablespoon oil
pinch salt
3/4 cup milk
Method
Sift flour, add eggs, oil, salt, 2 tablespoons of milk.
Beat until smooth.
Add the milk a small amount at a time.
Refrigerate 30 minutes before cooking.
Quantity = 12.
Crepe Suzette
125g butter
1/2 cup sugar
1 1/2 cups orange juice
2 tblespns lemon juice
1/2 cup grand marnier
Method
Melt butter in pan, add sugar
Cook over alow heat until the sugar melts
Pour in fruit juices
Stir over high heat until liquid reduces slightly
Reduce heat, add 1 pancake at a time to the pan, swirl around
Use a fork and spoon to fold in quarters
Allow to soak
Pour over the GM and set alight
Arrange folded crepes on warmed plates
Spoon over hot sauce
Serves 4 to 6