Description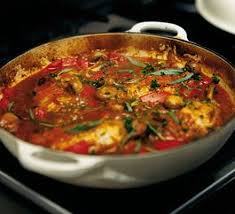 A chicken casserole dish with tomatoes and mushrooms served with potatoes, sour cream and chives.
Ingredients
Chicken breast
Plain flour
Olive oil
Onions
Canned tomatoes
Green capsicum
Mushrooms
Sour cream
Chives
1 Medium Potato each
White wine
Garlic
Mixed herbs
Chili powder
Method
Cut the chicken into pieces, coat in flour and spices.
Warm the oil and fry the chicken until both sides are crusty and brown. Remove the chicken pieces and place a in a casserole pot.
Add the chopped onion and garlic to the pan and saute until cooked. Move the onions and garlic to the pot. Add mushrooms, capsicum, white wine, tomatoes.
Stir and simmer.
Microwave the potatos and serve with the sour cream and chives.