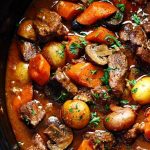 Beef Bourguignon is a well known traditional French recipe originating from the Burgundy region. Traditionally the meat was larded with lardons, but modern beef is sufficiently tender and well marbled, so this very time-consuming technique is rarely used any more. However, bacon cut into small cubes is still used to produce the initial cookling fat and added to the dish at the end.
Ingredients
1kg beef chuck steak
2 tablespoons vegetable oil
60g butter
10 baby (250g) onions
400g button mushrooms
3 bacon rashers, chopped
1 clove garlic, crushed
1/4 cup (35g) plain flour
1 cup (250ml) beef stock
1 cup (250g) dry red wine
2 bay leaves
1 tablespoon brown sugar
3 teaspoons chopped fresh oregano
Method
Cut beef into 3 cm pieces. Heat half the oil in pan, add beef in batches, cook until
browned; remove from pan. Heat remaining oil and butter in same pan, add onions,
mushrooms, bacon and garlic, cook, stirring, until onions are lightly browned.
Stir in flour, stir over heat until mixture is browned.
Remove from heat, gradually stir in stock and wine; stir over heat untill sauce
biols and thickens. Return beef and any juices to pan, add bay leaves, sugar and
oregano. Simmer, covered, about 2 hours or until beef is tender, stirring
occasionally.
Discard bay leaves.
Notes
Serves 4 to 6.
Recipe can be made a day ahead. Store covered in refrigerator.